I was featured in two great Etsy treasuries over the weekend!  Treasuries are galleries of items that are curated by other Etsy members and then posted on the Treasury section.
Treasury #1 —  LIFE IS A MERRY GO ROUND by ittybittybirdy
Treasury #2 —  THE TOTALLY TODDLER GIFT GUIDE (TREASURY CHALLENGE) by cherryandviolet
The Treasury Challenge was coordinated by Team Discovery, a wonderful group of Etsy members promoting undiscovered shops.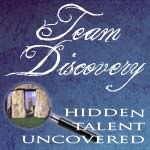 Thanks Team Discovery!