With summer upon us, I find it a necessity to stock a constant supply of Otter Pops in the freezer. 
With only 15 calories, 0g of fat and 4g of carbs per serving it doesn't make me feel too guilty for allowing Big Girl and her friends to have them as a mid-afternoon snack.  Almost every day.  Sometimes more than once a day.  And it's a guilt-free snack for me too.  Hehehe.
But the problem lies in that their small hands are sensitive to the frostiness of the simple treat.  My solution (which I learned from my fabulous neighbor) was to take dish towels are wrap around the bottom to protect them from the cold.  The problem however was that the towels slip around and usually get strewn all over the house and yard like snack food carnage. 
So when I stumbled across this tutorial yesterday I could have smacked myself!  How incredibly simple, yet ingenious idea.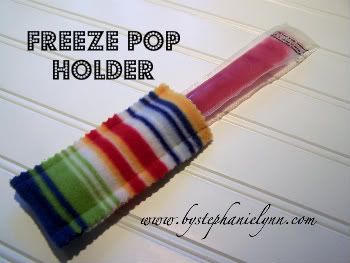 This is a MUST DO project for my weekend!  A huge thanks to Stephanie Lynn over at Under The Table and Dreaming for a fantastic tutorial.
Happy Sewing!